Nokia E5 is one of the latest Nokia 3G (third generation) smartphones which borrows many of its styling and featuring cues from its siblings in the Nokia's India stable like Nokia E71 and E63. The new 3G smartphone is supported with the HSDPA (High-Speed Downlink Packet Access) network, which provides a commendable 3G mobile telephony communications in combination with a high speed internet access. In addition to this, the Wi-Fi feature makes it handy to use in the local wireless network, which in turn keeps you up to date while you are on
the go.
Nokia E5 review : One of the most recent Nokia smartphones is the Nokia E5. The Nokia E5 handset has a full Qwerty keyboard and is a follow-up of what Nokia offered with the Nokia E71 and E63 models. The Nokia E5 cell phone is especially aimed at the business user, who will also use the Nokia smartphone for personal use. That is actually a pretty logical and practically-oriented target group. A large part of business users also actively use their phone for personal use. The fact that the Nokia E5 is a business phone is noticeable right away in creating an e-mail account. The possibility of creating several (up to ten) accounts is offered, and is carried out easily.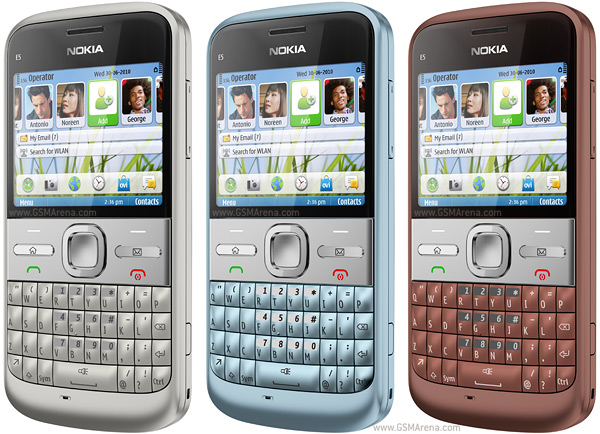 The 3G enabled Nokia E5 comes equipped with a QWERTY keypad, which makes it perfectly suitable to the requirement of the new age mobile users such as typing longer and instant massages. The new age business class bound Nokia E5 can be used efficiently in both professional and personal work.
The new Nokia E5 features the Ovi Maps (Nokia's free navigation solution), which is quite essential in finding the right address if you ever get lost. With this, it also helps you in easily get involved in most preferable business-social networks such as LinkedIn.
From the point of view of design and display, the new Nokia E5 can be considered a refurbished avatar of Nokia E71. It carries a display of 2.4 inch which is though small but offers a crystal clear display to the users. It comes featured with a 320x240 pixels resolution along with 250.000 reproduction colors. Though the new 3G Nokia E5 comes with an internal memory of only 250MB, the total memory can be enhanced to as much as 32GB with the help of microSDHC card which enables you to store media-rich files like music, videos, and high-resolution images. With this a 2GB microSD memory card is available as a standard feature with this phone. The mobile is expected to mark its debut in the Indian market by Sept 2010.
Nokia today announced a new addition to its Eseries line up. The Nokia E5, which runs S60 3rd Edition Feature Pack 2, is a mid-range device in a QWERTY slab form factor, with a 5 megapixel EDoF camera, comprehensive connectivity (tri-band 3G, WiFi), integrated GPS and 256MB of RAM, the first of the new raft of Nokia Symbian-powered phones to have this. It has a comprehensive social messaging software suite, with support for email, instant messaging and social networks. The Nokia E5, which can be considered a successor to the E63, will be available in Q3 2010 at a price of EUR 180 before taxes and subsidies. Read on for specs, photos and our thoughts.
The E5 is very similar in size to the E63 (115 x 58.9 x 12.8 mm versus 113 mm x 59 mm x 13 mm), but slightly smaller by volume (75 cc versus 86 cc) thanks to its more rounded profile. Due to the lower price and resultant materials the E5 is bigger than the E72 (114 x 58.3 x 10.1 mm and 65 cc). The keyboard's bottom row has been slightly tweaked with a return to the larger space bar with three (E5, E71), rather than four (E63, E72), buttons on either side. The control cluster has also been redesigned, as has the back of the device, with a mixture of plastic and metallic materials.
At €180 before taxes and subsidies, the E5 is Nokia's cheapest ever Eseries. It compares with launch prices of €199 for Nokia E63, €245 for the Nokia E52 and €350 for the Nokia E72. In the UK it should have a SIM-free street price of around £180, but, as with other products, this will fall in time.