Here are some new pictures of the Nokia E75. The Nokia E75 has a back cover with a metallic mirror feel along with a 2.4 inch screen, 3.2 megapixel camera, QWERTY Keyboard, Dual keypads, HDSPA, and WiFi. The E75 is the first Nokia smartphone to feature a slide-out Qwerty keyboard and style-wise it would appear to be a sort of cross between the conventionally sliding E66 and the E90 Communicator – the latest incarnation of Nokia's long-established hinged Qwerty-keyboard business phones.The 2.5in, 320 x 240, 16m-colour screen doesn't measure up to the E90's 800 x
352 beast, but at least it has the advantage of looking like a conventional phone, and Nokia's obviously done some sterling work in keeping it relatively thin - for a keyboard slider, anyway - at 112 x 50 x 14mm. It weighs in at a respectable 139g as opposed to the E90's trouser-straining 210g.
Around the sides are a micro USB port and Micro SD memory card slot - it comes with a 4GB card to boost the phone's 50MB of on-board memory - both covered with rubberised grommets, plus camera shutter and volume buttons, a dedicated voice commands button and a 3.5mm audio jack at the top. Round the back is a lightly ridged metallic cover, similar to the one on the E66, but this time with a 3.2Mp camera with LED flash and self-portrait mirror.
The Nokia has unveiled two new series of its Eseries range devices for efficiency enhancement. An announcement to this effect was made in a statement issued here on Thursday.
It said that the Nokia E75 and Nokia E55 are the first to ship with the company's new email user interface.
Both devices also come standard with Nokia Messaging that, when added to the company's corporate email clients, gives people the most efficient solution for accessing the world's consumer and corporate email on the go, the statement added.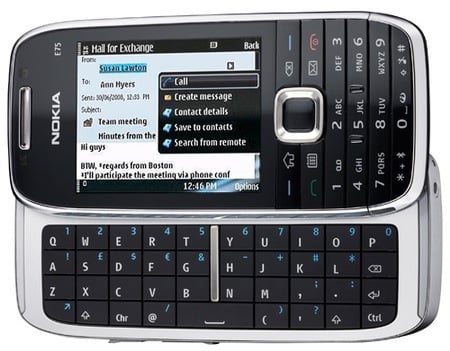 It said that in today's climate, the costs and benefits of technology are under closer scrutiny and email is an essential driver of efficiency and productivity.
2-nokia-e55-2"Efficiency is about doing more with less and focusing on what's truly essential," says Kai Oistamo, Executive Vice President at Nokia.
"With direct access to Microsoft Exchange and IBM Lotus Notes, companies can potentially save up to a third of their operating costs as there's no need for middleware or additional servers."
The statement further pointed out that with the latest Eseries devices, people will no longer need to boot up a PC to get a full desktop email experience.