Spotted in a Nokia promotional video and then through a series of spy shots at the tail end of October, the E63 has finally been officially unveiled this week. A relation of the fantastic E71 email-focused business phone, the E63 is slightly pared down in comparison, but don't dismiss this as phone to gloss over just yet.
Key Features of the Nokia E63:
* It's a quad-band 3G handset with GPRS, EDGE, Wi-Fi, A2DP Bluetooth and even Infrared as connectivity options.
* Full QWERTY keyboard and E71-beating Navi-Wheel navigational device, just like that found on the new N85.
* A 2 megapixel camera with flash and video.
* MicroSD card slot with a capacity of 8GB maximum, plus 110MB of internal memory.
The E63 should operate in exactly the same way as the E71 as it runs Symbian 9.2 S60 version 3.2 software too, however the new touch sensitive Navi-Wheel which encircles the traditional d-pad should make it even easier to flip between menus and screens.
This is the only feature on the E63 which cannot be found on the E71, which given its inevitably cheaper price tag is one thing more than we would usually expect. The E63 has a plastic casing rather than the E71′s all metal shell and weight drops by just a gram or two to 126. Battery life looks to have been upped to 432 hours standby and 11 hours talktime, improving slightly on the E71.
The E63 looks set to be an interesting addition to the range, perfect for anyone not wanting HSDPA or gadgets such as GPS, but preferring a focused email device which can handle some entertainment if need be, for which Nokia have added a 3.5mm jack plug, their media player and an FM radio.
Given the success of the E71, we see no reason why the E63 should be any different, potentially swaying users who didn't fancy learning a BlackBerry operating system or the E71′s higher price. Look out for the release date soon.
nokia e63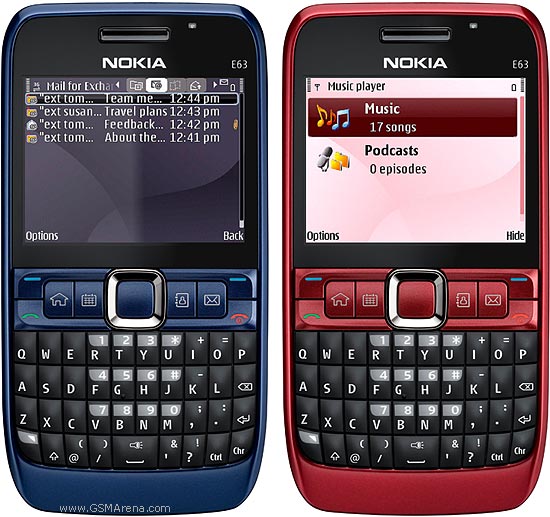 nokia e63
nokia e63
nokia e63
nokia e63
nokia e63
nokia e63
nokia e63
nokia e63