Europe : The Samsung F490 is another smartphone that is likely to be officially launched at 3GSM on the 11th February in Barcelona. Its's a 3G HSDPA smartphone with a 5 megapixel camera and a touch sensitive TFT display.
The display is a prime feature of the F490 as its 3.2″ 262K Color 16:9 Wide Full Touch Display which will make your photos and videos look great.
There is a new user interface which is named Croix UI user interface. Croix is a finger driven touch input UI that uses a system of menus and lists in a "cross" layout . Weight and dimensions can be classed as normal for a handset of this specification.
For music fans Samsung has included a 3.5mm headset jack socket.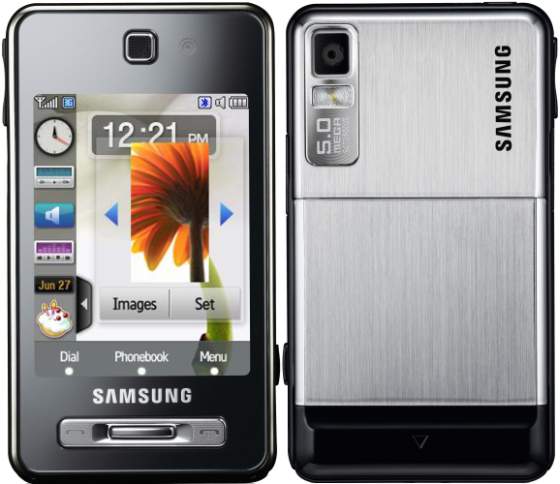 Samsung Electronics Co. Ltd. has launched the TouchWiz F480, its latest full touchscreen, ultra-slim credit card size mobile phone. The TouchWiz F480 includes 240 MB of internal music memory, a memory card with up to 8 GB storage, an integrated FM radio, a 5 MP camera featuring auto focus and a CMOS video lens.
"The F480 is a significant addition to our touchscreen mobile portfolio, bringing a totally new and exciting user experience. The F480 is just the first in a series of touchscreen mobiles we are launching this year, to provide our consumers with a more rewarding and engaging user interface; one that's more fun, easier to use and more personal," said Geesung Choi, President of Samsung's Telecommunication Business.
The Samsung F480 combines a new and unique TouchWiz user interface (UI), having specially designed widgets to customize and personalize the way users uses their phone, packaged in a slim and premium form.
The 'drag and drop' feature lets users have instant access to their favorite functions at a moment's touch. A unique menu of widgets display functions such as the clock, radio player, music player and more personal elements including photos and birthday reminders, which users can 'drag and drop' onto their home screens to suit their personal needs.
"Samsung's F480 has been designed with its users in mind, ensuring that its aesthetically pleasing design was equally matched when it came to the way that users interact with the mobile," said Jay Kim from Samsung's UX Design Team. "Our TouchWiz UI, housed within this slim and minimalist design, means that Samsung has secured its position at the forefront of the market."
The ultra-slim credit card size and refined texture make the F480 smooth and stylish. The chic, brushed metal finish gives it visual sophistication, further enhanced by its premium leather case, which also serves to protect the touchscreen when one is on the move. Samsung said the smart and emotional touch interface coupled with its sophisticated design appeal to users who are looking for the latest functionality and enjoy expressing their individuality.
Despite its slim 11.6 mm body, the F480 also boasts all the multimedia functions that one would expect from a premium Samsung mobile. This includes 240 MB of internal music memory, a memory card with up to 8 GB storage, an integrated FM radio, a 5 MP camera featuring auto focus and a CMOS video lens. In addition, the phone also offers high-end camera features, which are better known on a digital SLR than a camera phone, such as automatic face detection technology and a sophisticated image stabilizer.
The Monte comes packed with Samsung's own WebKit-based full HTML web browser which offers full Flash support, kinetic scrolling and one-finger zooming along with landscape orientation display capability.
The Samsung S5620 Monte phone also sports a built-in MP3 media player which which supports MP3, ACC, ACC+, eAAC+, WAV, MIDI and WMA music formats. Advanced Audio Distribution Profile (A2DP) Bluetooth for stereo sound allows listening to music on bluetooth compatible headset absolutely wire-free. In addition there is also a FM Radio tuner with 20 station memory and auto-tuning feature and live recorded sound clips which can only be used as ring tones or alarms.
The Samsung S5620 Monte is armed with mobile tracker feature that helps users track their phone in case they happen to lose it. In an event of being lost, stolen or misplaced, the Mobile Tracker feature sends an SMS prompt to a pre-determined number whenever the SIM card is changed thus improving chances of recovering the handset.
Besides, the handset also offers Hinglish SMS feature which facilitates faster typing and makes messaging more fun, as it recognizes both English and Hindi words.
This model supports 3G, but it was unclear whether there would be Wi-Fi, built-in GPS, and 8GB of space, Samsung is also prepared for the WM more easy-to TouchWiz interface, which in the previous release mentioned Omnia II, phone, to cost up to € 700,most likely unsubsidized, when it goes on sale. The Armani phones released to date haven't supported North American 3G bands and haven't been sold through normal channels in the US.